Import Export Code Registration in Indore
- Documents, Fees, and Process
Updated on April 28, 2023 06:01:16 PM
The first step of starting an international trade business is obtaining an Import-Export code. This code legalizes your import-export business and comes with several other benefits that we will discuss later.
However, running an import-export business without an IEC code is illegal and you will face a lot of hurdles while clearing your goods from the ports and also, while making transactions in foreign currency.
In this article, you will learn everything about IEC code registration, documents required and the entire process of obtaining an IEC code in Indore.
IEC Certificate [Sample]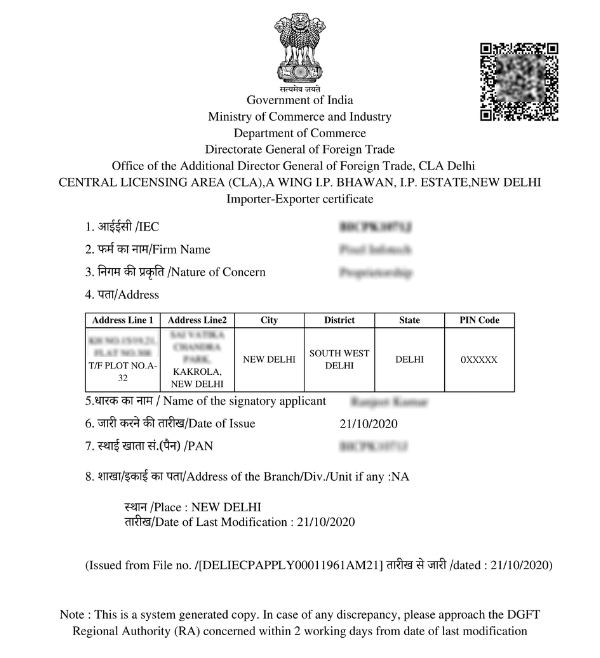 What is an IEC Code?
IEC code is a 10-digit code issued by the Directorate General of Foreign Trade (DGFT) to ease the foreign trade in India.
Import Export Code registration in Indore is mandatory for every import-export business. You are not allowed to import or export goods in Indore without IEC code registration.
Documents required for Importer Exporter Code Registration
Following documents are required for IEC code registration in Indore :
PAN card copy of the applicant entity.
Address proof of the company( Electricity Bill)
Lease/Rental Agreement if the office is rented.
Canceled Cheque copy of company's current bank account.
Sale deed if the company is self-owned.
Digital Photograph(3*3)
Benefits of of obtaining an Import Export Code
While an IEC code allows you to operate an import-export business in Indore, It comes with some additional benefits. Let's take a look at how obtaining an IEC code will help your import export business :
Legalize Overseas Trade
The IEC code facilitates your overseas trade and legalizes your import and export business. It makes your trade across borders easy and legal.
Global Business Expansion
Import-export code allows your product to reach the global market, which results in huge business expansion.
Obtaining an IEC Code Opens your door to the online international marketplace like Alibaba and Amazon.
Import/Export Subsidies
An exporter can claim a refund on taxes imposed while exporting goods
If you promise to import goods within a specific time, The government even waives some import duties as well.
Easy Registration Process
You can get an import/export code registered by providing some basic documents like a PAN card, Address proof, Bank details, etc.
There is no need to fulfill any compliances like annual filings or return fillings. It is a hassle-free process.
The entire registration process is online. There is no need to go anywhere to obtain an IEC.
Facilitates Electronic Fund Transfers (EFTs)
EFT is a new service offered to exporters that allows them to pay the license fee online via the internet rather than visiting a bank to make the payment.
Situations where you need an IEC code in Indore
When an importer has to clear his shipments from the customs, then an Import Export code is required by the customs authorities.
The IEC code is required by the banks when the money is sent abroad through banks by the importer.
The Import Export license is required by the customs port when the shipment has to be sent by the exporter.
The IEC code is required by the banks when the money is received in foreign currency directly into the exporter's bank account.
Starting your own Import-Export Business?
Register your import and export business with Professional Utilities to get your IEC Certificate . You get the free consultations and quick service at lowest Price with us.
Apply for IEC code Now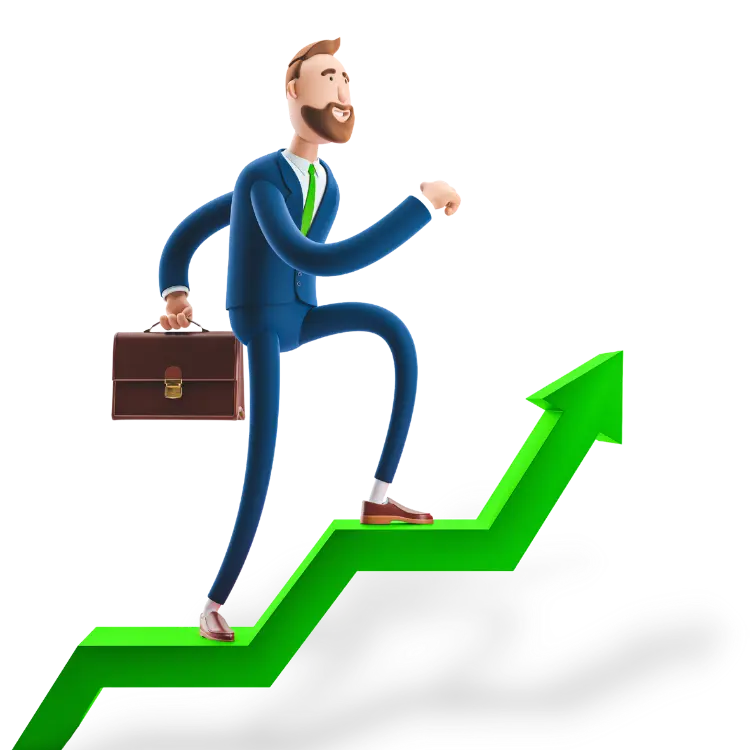 How to apply for IEC Code in Indore
You can register for the Importer Exporter code offline as well as online. The online registration process is effortless, and you don't need to go anywhere. The process is carried out in 5 steps :
1. Register on the DGFT portal
The Directorate General of Foreign Trade(DGFT) is an online government portal where you can register for an import-export license. Your first step is to register on this portal.
2. Documentation
The second step is the application phase, where all your documents are arranged and prepared for application. Refer to the documents required for better understanding.
3. Application for Import Export Code
An importer/exporter is required to file an online application in ANF 2A(i) and submit the required documents for verification. You also need to pay the government fees to complete the application process.
4. Verification by DGFT
Once your application is submitted, it is sent to DGFT for verification. In case there is wrong or incomplete information, Your license will be canceled. So, make sure you provide the correct information.
5. Approval and Issuance of IEC code
Your IEC code will be issued after the approval by DGFT. In the case of the online application, you will get an e-IEC. Once approved by the competent authority, you will be notified through email or SMS that your e-EIC is available on the DGFT website.
IEC code Registration Fees for Indore
IEC Registration cost(₹) in Indore :
Aayaat Niryaat Form 2A
NIL
Filing at DGFT
NIL
Government Fees
500
Professional Fees
999
Total – ₹1,499 only
Import Export Code Validity and Renewal
The Validity of an IEC code is 1 year. Unlike other government licenses, The Import Export Code was valid for a lifetime. However, after the amendments in Foreign Trade Policy on 12th February 2021, the import-export code has now to be renewed every year.
This amendment made the renewal of Import Export Code details mandatory for every IEC and e-EIC holder. Even if there are no updates in IEC, the same has to be confirmed online on the DGFT portal. Failing to do so may result in the deactivation of your Import Export code.
IEC Registration with Professional Utilities
The complications in understanding the process and providing appropriate documents are very much hectic. There is a high chance of rejection of the application at each step of document uploading. There are different standards of Digital Signature certificates (DSC) that must be uploaded.
We at Professional Utilities understand completely. That's why we come forward to help you avoid the hassle and get your Import Export Code registered at the minimum price guaranteed. So that you can concentrate on running your business and leave the legal formalities to us.
You can apply for IEC registration in just three simple steps with us.
Step 1:
Get in touch via call or contact form
Step 2:
Provide necessary documents
Step 3:
Get your IEC registered in 2 working days
Why Professional Utilities?
4.9/5 Google Rating
(350 Reviews)
FAQs(Frequently Asked Questions)
Who gives IEC code?

DGFT(Directorate General of Foreign Trade) issues and updates the Import Export code.
How much time does it take to get IEC code online?

It takes 5 to 15 days for the complete procedure of obtaining an IEC code.
Can We import without IEC code?

No, You can not do any import/export without IEC code. Your goods will not be allowed to pass the ports without an IEC code. However if you are importing or exporting goods for personal use then it is not mandatory.
How to apply for an IEC Code online?

You can apply for Import Export Code by following these steps :

Register your company on DGFT portal.
Fill the ANF (2A) form and submit the required documents.
Your IE code will be issued after the approval by DGFT.
What is required for IEC code Registration?

Documents required for Import Export Code registration in Indore are as follows :

PAN card
Aadhaar Card
DSC( Digital Signature Certificate)
Bank account in the name of IEC holder
How do I become a registered exporter in Indore?

To become a registered exporter, you need to get an IEC registration. Once you obtain the I importer Exporter code, you are allowed to export goods from India. The code is also valid for importing goods in India.
Have any Other Queries?

Talk to us. Our expert will guide you throughout the entire process. Get in touch with our team to find all import export related answers. Call us @9716711090 or write to us at [email protected].
Other Import Export Services