Council of Leather Exports (CLE) Registration
Updated on June 12, 2023 01:04:40 PM
The Council of Leather Exports (CLE) is a government-supported organization that promotes and facilitates the export of Indian leather and leather products. One way for leather exporters and manufacturers in India to gain access to the services offered by CLE is by registering for membership.
Registration cum membership with CLE can provide significant benefits for Indian leather exporters and manufacturers. With CLE membership, exporters and manufacturers have access to a range of trade-related services, such as market research and intelligence, and export development programs.
Additionally, members are also kept informed about the latest industry trends, policies, and regulations and have a platform to voice any concerns they may have. Furthermore, they also get the benefits of networking with other leather exporters and manufacturers.
This can help to increase their visibility and credibility in the global market, which can lead to more business opportunities and greater success in exporting their products.
CLE Certificate Sample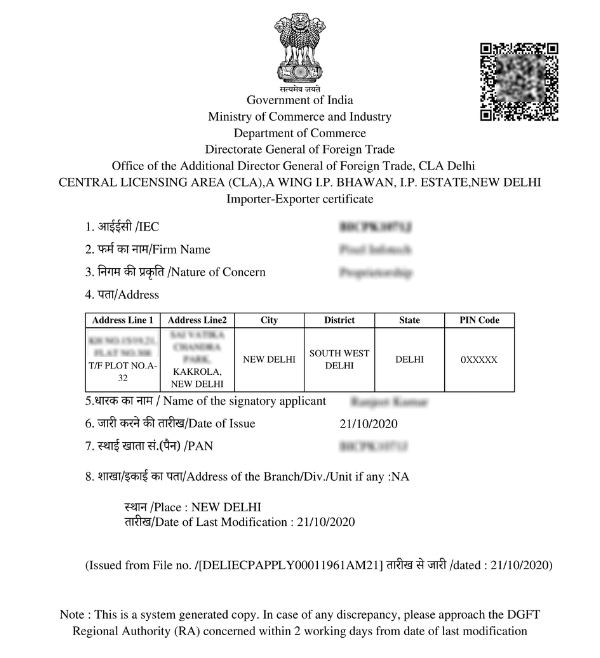 Registration cum membership for Leather Export from India
CLE RCMC stands for "Council of Leather Exports Registration-Cum-Membership Certificate." The CLE is an organization that promotes the export of Indian leather and leather products.
RCMC is a certificate of registration and membership issued by CLE, which verifies that an exporter and manufacturer of leather products is registered and is a member of the organization.
Obtaining an RCMC is a mandatory requirement for exporters and manufacturers of leather and leather products in India to export their goods. it helps exporters and manufacturers in complying with regulations and gain access to various services offered by CLE that eventually help to grow the business.
The registration for CLE can be classified under 2 categories:
Associate Members: Those members whose FOB value of exports below Rs. 15 lakh.
Ordinary Members: Member whose FOB value exports above Rs. 15 lakh.
Documents required for leather exports in India
A leather exporter can become a member by applying online. The Following are the required documents:
Self-attested copy of GST certificate
Self-attested copy of PAN number
Self-attested copy of Import Export Code
Duly signed certificate by CA of export performance of the last three year
In case of manufacturer exporter, a self-attested copy of the SSI/MSME certificate or Industrial License or IEM used by the licensing authority needs to be submitted.
After successful registration members of the Council of Leather Exports, will be awarded with Registration-Cum-Membership-Certificate (RCMC) which remains valid for next 5 years.
Registration Process for Council of Leather Exports
Filing of registration form: The registration form for E-RCMC can be filed from the DGFT website. The form should be filled out with all the required information, including details about the applicant's business, contact information, and information about the products they plan to export.
Submit the registration form: The completed registration form should be submitted along with the required documents, such as PAN card, GST registration certificate, and company registration certificate respectively.
Pay the fee: A fee is charged for registration, which is to be paid to the Council of Leather Exports. The fee may vary based on the category of registration.
Verification process: The authorities will review the registration form and the accompanying documents to verify the information provided. If any additional information is needed, they may request it from the applicant.
Issue of registration certificate: Once the registration process is complete and the applicant's information has been verified, an E-RCMC will issued respectively.
How to Get CLE Membership with Professional Utilities?
Step 1:
Get in touch via call or contact form
Step 2:
Provide necessary documents
Step 3:
Get your RCMC certificate
Registration Fee for Council of Leather Exports (CLE)
The registration fee for CLE registration-cum-membership-certificate can be classsified as per the type of membership
Fee for Assosicate members:
| Member category based on Previous year Export value | Entrance fee | Annual Fees | Total Fee incld. 18% GST |
| --- | --- | --- | --- |
| Below ₹15 lakh | Rs.3500 | Rs.5000 | Rs.10030 |
Fee for Ordinary Members
| Member category based on Previous year Export value | Entrance fee | Annual Fees | Total Fee incld. 18% GST |
| --- | --- | --- | --- |
| Above ₹15 lakhs & upto 1cr | Rs.5000 | Rs.7000 | Rs.14160 |
| Above ₹1cr & upto 5cr | Rs.5000 | Rs.15000 | Rs.23600 |
| Above ₹5 cr & upto 10 cr | Rs.5000 | Rs.20000 | Rs.29500 |
| Above ₹10 cr & upto 50 cr | Rs.5000 | Rs.30000 | Rs.41300 |
| Above ₹10 cr & upto 100 cr | Rs.5000 | Rs.40000 | Rs.53100 |
| Above ₹100 cr | Rs.5000 | Rs.50000 | Rs.64900 |
Benefits of CLE Membership
The benefits of having an registration with the council of leather exports for exporters and manufacuturer exporters are as follows:-
Access to market information and intelligence: The CLE regularly provides its members with information about trends and developments in the global leather market, as well as updates on government policies and regulations that may affect the industry.
Promotion and marketing support: The CLE helps its members to promote their products in international markets by organizing participation in trade fairs, exhibitions, and buyer-seller meets.
Networking opportunities: The CLE organizes various events and initiatives to promote networking and collaboration among its members, including industry-specific seminars, conferences, and roundtable discussions.
Support in resolving disputes: The CLE provides assistance to its members in resolving disputes related to trade and commerce
Access to finance: The CLE provides its members with access to various financial institutions and schemes to help them finance their export activities.
Technical assistance: The CLE also provides technical assistance to its members in areas such as product development, design, and quality control to improve the competitiveness of their products in the global market.
In short the council of leather export helps the Indian leather industry and its exporters to grow and improve their competitiveness in the global market by providing them with the above services, which they might not be able to access individuall
Conclusion
In conclusion, applying for a registration cum membership certificate from the Council of Leather Exports (CLE) is a crucial step for exporters and manufacturer exporters of leather in India. The certification demonstrates a commitment to quality, industry standards, and reliability, vital in building a strong reputation in the global market.
CLE provides a wide range of services and support including market intelligence, trade fair and exhibition participation, assistance with technical and commercial matters
Moreover, being a registered member of the CLE enables companies to benefit from the organization's collective bargaining power, thus help to negotiate better deals with suppliers and buyers.
Why Professional Utilities?
4.9/5 Google Rating
(350 Reviews)