How to Get FSSAI License for Zomato
Updated on February 14, 2023 01:33:05 PM
Zomato is an Online aggregator which provides food listing and home delivery services in India. It was founded in 2008 to provide its users with easy online options for varieties of food. As per the guidelines of FSSAI, no food service provider can list themselves with Zomato or any online aggregator without having an FSSAI license. All Zomato partners, such as restaurants, must have mandatory FSSAI registration to commence their business.
FSSAI Registration Certificate [Sample]
Basic Registration
State License
Central License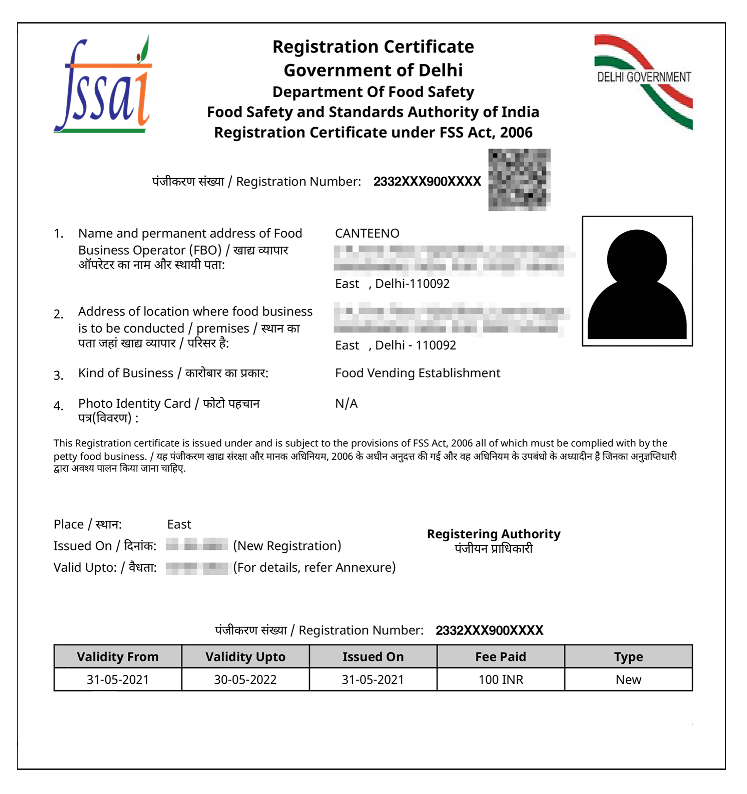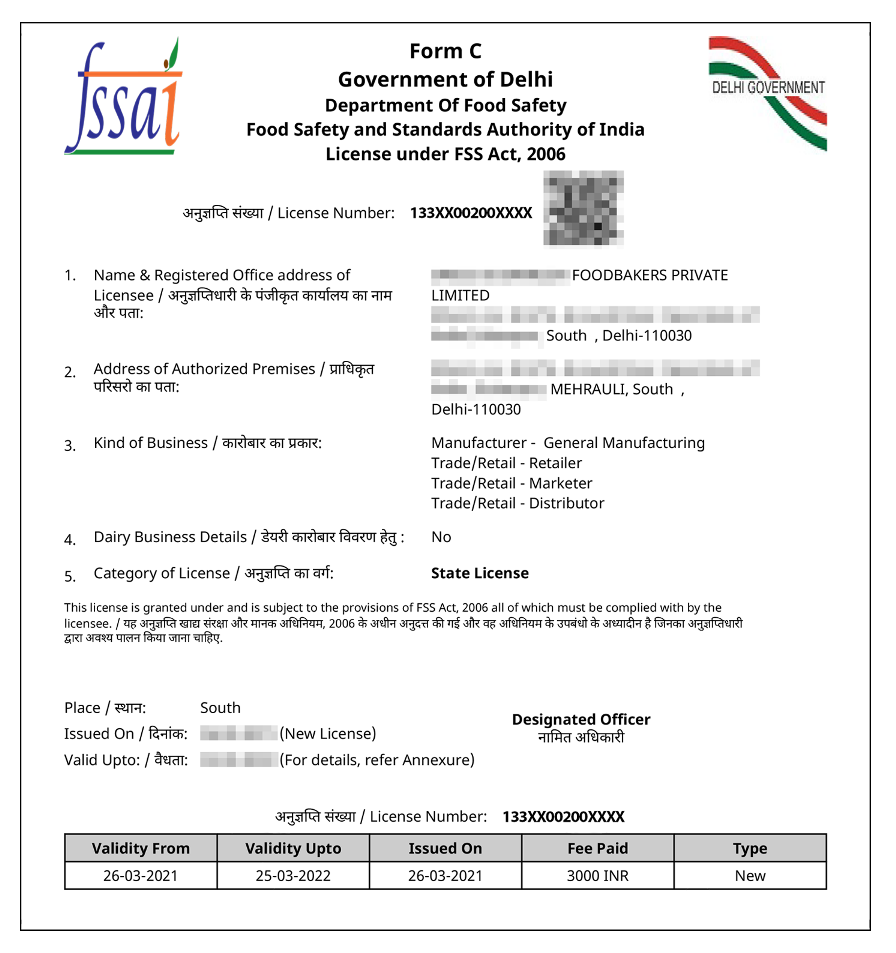 What is FSSAI Registration?
FSSAI is an Apex authoritative body that governs the food sector in India. It is also responsible for allocating FSSAI licenses to various food business operators and food listing service platforms. All food businesses must register themselves with FSSAI to commence any business. FSSAI registration is a 14-digit uniform license number given to registered FBOs.
It contains all the necessary details of FBOs and ensures consumers of the food quality.
Types of FSSAI Registration
FSSAI has classified its licensing into 3 subcategories as per the nature of food business operators and their annual turnover.
1. Basic FSSAI registration
Food business operators such as petty FBOs, hawkers, and Dhaba owners having a turnover less than or up to Rs.12 lakh per annum are eligible for FSSAI basic registration.
2. FSSAI State license
FBOs such as 3-star hotels, restaurants, food vendors, merchants, distributors and food manufacturers having an annual turnover of more than Rs. 12 lakh but less than Rs. 20 crores per annum are required to get FSSAI state license from respective licensing authorities.
3. FSSAI central license
Food businesses such as 5-star hotels, food chains operating in multiple states, or having a turnover of more than Rs. 20 crores per annum require an FSSAI central license.
FBOs operating at Central government-owned premises like airport premises, seaports, and Indian railways are also required an FSSAI central license irrespective of their annual turnover.
Documents required to get FSSAI Registration for Zomato
The food service providers like restaurants, hotels or petty dhabas who wants to enlist their services on an online aggregator like Zomato are legally required to have a valid FSSAI license as per their eligibility criteria. As per the guidelines of FSSAI, any food service provider with a valid license can enlist with Zomato.
FSSAI Basic registration
FSSAI state license
FSSAI central license
Identity proof
Proof of residence such as a driving license
Form IX
Detailed nature of business
No objection certificate from local authorities or the district or town
Source of raw material
Must fill out form B
Layout details of premise in square meters and meters
Recall plan for food products
Form IX nomination
List of directors with details in case of a company
Partnership deed / self-declaration for Proprietorship
Copy of ( Coop Act-1861/ Multi-State Coop Act-2002 ) certificate
CGWA NOC is necessary in the case of groundwater
Name and list of equipment and machinery
Government-issued identity cards like the Aadhar card
Declaration in form B
NOC from authorized local body
Proof of ownership of premise
Authorized identity proof
Import-export code issued by DGFT
A central license is required if running operations in multiple states
For 100% EOU Ministry of commerce certificate is required
NOC from the ministry of tourism in the case of hotels
Food safety management details
COOP-act 1861 and multi-state act 2002 certification
Source of the raw material
The testing report of water if being used
Cost of FSSAI license for Zomato
| Type of Registration | FEEs |
| --- | --- |
| FSSAI Basic Registration | INR 100 per annum |
| FSSAI State License | INR 2000-5000 per annum |
| FSSAI Central License | INR 7500 + 18% GST per annum |
Note : As per the new norm of FSSAI. The applicants are required to pay only Initial fee of ₹1000 + 18% GST on it for their FSSAI licenses. However once the application is processed and passed by the licensing authorities then the rest of the differential amount i,e respective license fee along with differential GST has to be paid by the applicant within 30 working days. If the applicant failed to pay the amount then approval will be auto rejected.
Procedure to get FSSAI license for Zomato
Step-1 Applying online
Applicants must file on the FosCos web portal for an FSSAI license with all the necessary details and documents per their requirements and eligibility criteria.
Step-2 Inspection by FSSAI
After successfully applying, the concerned authorities might send a food safety officer for a physical inspection of the premises and will initiate a thorough inspection and document verification.
Step-3 Approval from FSSAI
Once the satisfactory inspection has been held, the food safety officer will approve issuing the FSSAI license.
Step-4 Issuance of License
Licensing authority will issue the FSSAI Registration number within 25-30 days of initiation. A 14-digit license number will be provided to the applicants on their registered email address.
Renewal of the FSSAI license
FSSAI licenses are valid for a minimum of 1 year to a maximum of 5 years and can be renewed 180 days prior to their date of expiry.
Food business operators who fail to renew their license 30 days prior to the last date then they shall be charged a late fee of INR 100 per day till the day of renewal.
In the case of FBOs filling for FSSAI renewal from the 1st to 90th-day after the day of expiry, then they shall be charged 3 times the original annual fee respectively and 5 times if they appear after the 90th day from the day of expiry.
Why Professional Utilities?
4.9/5 Google Rating
(350 Reviews)
FAQ
Is FSSAI license mandatory for Zomato?

As per the guidelines of FSSAI all food service providers like hotels and restaurants are required to have valid FSSAI registration or license to list their food services on online listing platforms like Zomato in India.
Which FSSAI License is required for Zomato?

Majority of Zomato food service providers are small businesses and or Dhaba owners, they are required to get FSSAI basic registration to register their business on Zomato.
What is the fee for FSSAI registration?

The basic fee for FSSAI registration is Rs. 100 per annum The FSSAI state license fee is Rs. 2,000 - 5,000 per annum depending upon the nature of business.
How much time does it take to get FSSAI licesne?

It will take 25-30 days to get an FSSAI license from the authorities.
Can I sell on zomato without FSSAI Registration/License

As per the guidelines of food safety and standard authority of India, no FBO can carry any kind of business related to food without having a valid FSSAI license/registration.
How do I check my FSSAI license number

FBOs can check the status of their FSSAI license number on the FosCos web portal, or you can check your validity using our license number checker tool.