Apparel Export Promotion Council
(AEPC) Certification
Updated on May 09, 2023 06:10:19 PM
AEPC "Apparel Export Promotion Council" is a government body established to promote Indian apparel exports. AEPC aims to promote the Indian garment manufacturing textile industry both in domestic market as well as in foreign market.
An exporter of textiles must have AEPC e-RCMC to get the benefits of schemes under foreign trade policy. Such as access to market development assistance grants & schemes. Under AEPC, exporters can either be member exporters or apply as registered exporters of the council.
AEPC Certificate Sample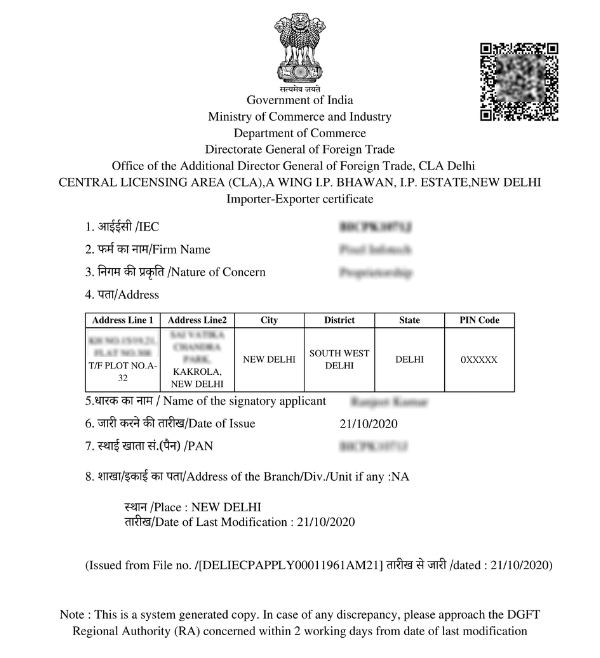 Objectives of AEPC
The AEPC has several goals, and it is easy to deduce what those goals will mean for the members.
The following is a list of some of the primary goals of the AEPC:
Implementing a method to Increase Apparel Exports.
Improve workforce skills and help improve quality.
Collaboration with the government in setting export targets, planning for the future, and forecasting economic conditions.
To facilitate exporters financially or technically, provide them with informative research data to boost exporters and the quality of their products.
All ready-made garments (except leather, jute, and woolen knitwear) are to be promoted, increased, & developed for export.
Maintaining efforts to inform business owners of market trends, product prices, government programs and subsidies.
Eligibility for AEPC certification
Exporters who want to export garments can register as
Registered exporter
Member exporter
For Registered exporter
The applicant must be a registered firm under the companies act.
Applicants must have an Importer-exporter certificate issued by DGFT and also required a Digital signature certifcate DSC.
An applicant must be an undischarged insolvent, "which means they should be legally free from any kind of loan."
For member exporter
Along with the eligibility criteria of Registered Exporter, the applicant must also fulfill the following criteria:
The export performance of the exporter of at least up to 1 crore rupees for the last 3 consecutive financial years
Documents required for AEPC RCMC
These are the list of some obligatory documents that are required to be attested in order to apply for AEPC registration cum membership certifcate.
Copy of the import-export code
Self-attested copy of SSI in case Manufacturer exporter
Undertaking on non-judicial stamp paper duly notarized
Self-attested copy of the Memorandum & Articles of Association in case of a company
Certificate of incorporation /Partnership deed of the firm or company
Certificate or Letter of Intent, Industrial License & acknowledgement issued by the concerned Authority duly self-attested
Documents to become an AEPC Member exporter
Along with the documents mentioned above for registering exporters, the following documents are required to become an AEPC member.
Registration cum Membership Certificate of Registered Exporter
The export turnover during the previous 3 Financial years was duly certified by a Chartered Accountant or a Banker.
Fees for AEPC registration certificate
The entrance fees for new AEPC registration is Rs. 1000, including (GST at 18%)
The annual subscription cost is Rs. 10500 plus including (GST at 18%)
| Particulars | FEES |
| --- | --- |
| Registration fee | ₹1000+18% GST |
| Yearly subscription fee for registered exporter | ₹10500+18% GST |
| Grand total for new AEPC registration | ₹13570 |
Renewal of AEPC certification
The registered members and exporters are required to renew their AEPC e-RCMC every year. The renewal cost for members and exporters are the same as the subscription.
If the applicant fails to renew their e-RCMC certificate, their registration will be canceled immediately.
Particulars
Renewal validity
Validity of AEPC eRCMC
1 year
Note: AEPC e-RCMC shall be renewed by the 31st May each year.
Process for AEPC certification
You can get your AEPC certificate in very simple steps with professional utilities.
Step 1:Provide us with all the necessary details, documents and information
Step 2:Submission of fees
Step 3:Issuance of certificate or e-RCMC
Benefits of AEPC certification
GST facilitation: AEPC is facilitating GST-related issues of the exporters.
Trade facilitation: To help exporters in addressing their problems, AEPC actively pursues exporters complaints that are brought up with customs, Icegate, DGFT, ECGC, and other organizations involved in exports and imports.
Advisory for labor law: The Legal Advisor will also help registered exporters by giving them legal opinions and day-to-day advice & clarifications on all applicable labor and employment laws when needed.
Market access initiative: Apparel exporters exhibit their best items at domestic & international exhibitions. This also helps identify international partners for up-scaling and technological upgradation and provides textile and apparel industry market intelligence.
Access to seminars & workshops: AEPC is responsible for organizing workshops, seminars, and webinars relevant to the garment sector. Registered members can benefit from such events to expand their knowledge and network about the industry.
Access Skill assessment cell: The Skill Assessment Cell (SAC) was set up with the main goal of driving skill assessment initiatives in the Apparel/Garment, Khadi, and Carpet sectors to create jobs, grow the economy, and improve society. The cell helps boost morale, improve the candidates' social standing, and turn the workforce into a certified skill pool.
Why Professional Utilities?
4.9/5 Google Rating
(350 Reviews)
Frequently Asked Questions (FAQs)
Is it Compulsory to obtain an RCMC certificate to export garments?

Registration cum membership certificate can help exports in terms of facilitation and getting the benefits of Foreign trade policies. Having an e-RCMC Certificate is beneficial for exporters of apparel.
How to apply online for AEPC e-RCMC registration?

You can apply for e-RCMC online with professional Utilities in 3 simple steps

Provide documents
Submission of application
Issuance of e-RCMC
What kind of products are covered under AEPC?

Readymade garments are covered under the Apparel export promotion council.
Can I become a member exporter without becoming a registered exporter?

No, to become a member exporter of AEPC, applicants first need to apply as registered exporters.
Is the IEC certificate mandatory for the AEPC eRCMC certificate?

Yes, an Import-export certificate issued by DGFT is mandatory for all exporters and importers in India.
What is the renewal period of AEPC certification?

The registration is validfor one year & expires on the 1st of April of every year. That must be renewed before 31st May that year. If failed to renew the license on time then the RCMC will be cancelled by the concerning authorities.
Support
Speak Directly to our Expert Today